Best building ever!

This article is a nominee for featured article. If you would like this to be featured article, please vote on the poll on the main page.
Minecraft
New Logo

Minecraft

Pre-Release
May 17, 2009
Released
November 18, 2011
Developed By
Mojang AB

Markus Notch Persson Jens "Jeb" Bergensten

Run On
Java (Computer)

Latest Version
1.6.1 (Computer)

0.7.1 (Pocket Edition)


Written on



Minecraft is a sandbox/indie game, developed by Markus "Notch" Persson, owner of Mojang AB. Minecraft works on computers with Java. The game released on May 17, 2009, which is known as Minecraft Classic, which can be played as a demo in the Minecraft webpage, and Minecraft 1.0 took place of Classic on November 18, 2011. Since then, Minecraft has been a impact of video games, moving from computers to the iPhone and iOS and also, including a version on the Xbox 360.
The main idea of Minecraft is to survive in the depths of the world, from hostile mobs, like the Creeper, the Zombie, Spider and other enemies, eat, make a home, and head through the underworld  of the Nether, and defeat the Ender Dragon in The End, a alternate universe.  
Purchase
Minecraft is available for purchase for US $26.95, EUR €19.95, and GB £17.95 as a one-time purchase[3]. Gift codes can be bought for the same price. The game (purchased) can be found in a downloadable client, the Minecraft Launcher. It can also be played in a web browser, like Internet Explorer, Google Chrome, Mazilla Firefox, Safari or other browsers. Recently, you can buy it from a store as a gift card.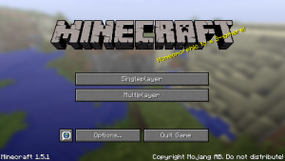 You must have Java in order to play the game.
Classic can be played on the Minecraft webpage, and all versions, except Classic, can be purchased. If you want to play Classic,  click here. (Singleplayer)  Pocket Edition, for the Android, iPhone, and iOS, it can be purchased in the Android Market and the iTunes App Store. Here are the things that you need on your computer in order to play Minecraft.
Note: The first one is reccomended by Mojang AB. The second is reccomended by Minecraft Help, in the main menu.
Mojang AB Reccomendations[4]
RAM: 1GB

GPU: A dedicated video card

Java: Latest version of 64-bit Sun Java, Java can be downloaded here.
Minecraft Help Reccomendations
RAM: 1.5GB

CPU: 1.8GHz

GPU: 

nVidia GeForce 6xxx Series or ATI Radeon 9xxx Series Dedicated Video Cards
History
Beginings (Early 2009 - May 16, 2009)
Notch, creator of Minecraft, was playing Infiniminer, a game that had the same theme as Minecraft. Along played with him the other TIG Source[5] fourms. It is also known that Dwarf Fortress, Dungeon Keeper[6], and RubyDung[7] , also was a influence to Minecraft. Notch got the idea of Minecraft and the game started to take shape. On May 13, 2009, Notch, on YouTube, posted the cave game test, calling it a "cave game.[8][9]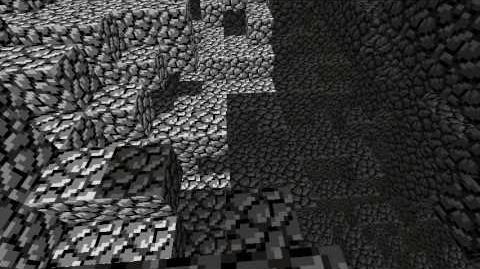 It hen became known as "Minecraft: Order of the Stone," loosely based on the popular Internet meme, "Order of the Stick"[10]. The name was made smaller into "Minecraft," and soon, the game was released as a "early private singleplayer alpha" on May 16, 2009[11] 
"
I realized that a game that simple had a lot of potential to turn into a really great game, and kept coming up with things I wanted to change and stuff I wanted to add.
"

–Notch, Creator of Minecraft[12]
The Birth of Minecraft and the Introduction of Classic (May 17, 2009 - Decemeber 22, 2009)
Minecraft  was released the day after the private release, as version 0.0.11a, on May 17, 2009. The next day, Minecraft was already at IndieGames.com[13]. It took the name of Minecraft Classic. By July, the game was run and written on LWJGL (Lightweight Java Gaming Library[14][15]). It only included Creative mode, and then Notch wanted players to have a challenge. Survival Test introduced mobs, zombies, and brand new things. It also included statue-like skeletons, which were changed later to be active. It worked like Hardcore mode; should the player die, he will have to delete the world, and start all over again. 
Introducing Indev (December 23, 2009 - February 26, 2010)
Soon, Notch recived requests of new features. On December 23, 2009, Classic shut down, and out came Indev (In Development), and new features released. The Surivival Test ended, and out also came Survival mode. There was a change in spawning when starting a game; the Player would appear in a wooden house. Indev also introduced new biomesm such as Floating Islands and the Sky Dimesion (which would later become The End), and Hell (the Nether), and if death occured; all progress was deleted.
Infdev (February 27, 2010 - June 27, 2010)
Infdev (Infinite Development), was released on Feburary 27, 2010 as the 3rd phase of Minecraft. 3D clouds, new crafting recipes, a new terrain generator, and Infdev removed things from Indev, such as the Sky Dimension. At last, when death occurs, the Player can now respawn. Another kind of transportation was added; Minecarts. Infdev was available until September 2010 and Minecraft Infdev was shut. It could still be playerd with the Infdev .jar file or downgraders,
Alpha (June 28, 2010 - December 19, 2010)
Minecraft saw many features added on June 28, 2010 as Alpha. Alpha gave Survival mode multiplayer, Redstone circuites, new music, and difficulty, as the first major Minecraft update, Seecret Friday Updates, from June 18, 2010 (at Infdev) to September 18, 2010 at Saturday. On Halloween 2010, October 31, 2012, Hell became the Nether, different biomes, new mobs, and new blocks. Also, after the Halloween update, Creative multiplayer was replaced with Survival multiplayer.
Beta (December 20, 2010 - November 28, 2012)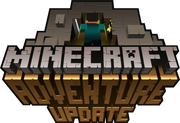 Beta became the last stage of development and was released on December 20, 2010. A new logo, tall Grass, two new kinds of Trees, weather, beds, and wolves were added. Also, achivements, statistics, squid, Smooth Lighting and dyes were added, too. Then, when 1.8, September 18, 2011, the Adventure update, another major update, added the End, a new terrain generator, MPC villages, new mobs, like 
Villagers, strongholds with End Portals, and Abandoned Mine Shafts were added. Hardcore mode and Creative mode were added (Creative mode got a fresher look). On October 18, 2011, Mojang focused on fixing bugs on Minecraft.[16][17] The development ended on November 28, 2012.
The True Release of Minecraft (November 29, 2012 - August 16, 2012)
On November 29, 2012, at MineCon, Minecraft was offically released as Minecraft 1.0. On March 1, 2012, 1.2.1 was released. It added the Jungle biome, and mob and chat improved. 1.3.1 (August 1) changed gameplay and added Adventure mode. The Pretty Scary Update added the Wither, and added new mobs, blocks and items.
To the iPhone and Xbox 360 (August 17, 2012 - May 2, 2012)
Pocket Edition was released on August 17, 2012. It was similar to Classtic on the Xperia Play by Sony. Soon, on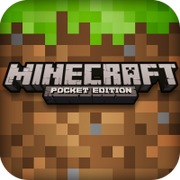 October 17, 2012, Pocket Edition was added on all Android cellphones. Then, the contract with Sony expired. On November 16, 2012, a iOS editions were released.[18][19] On May 9, 2012, Minecraft: Xbox 360 Edition was released at E3 2012, rated E. Kinect could be later added.
To LEGO and Pi (December 2012 - April 2013)
On December 2012, Mojang submitted a entry to LEGO Cusoo>, a project to make new LEGO themes every year. It quickly got 10,000 votes[20], and LEGO reviewed the idea. On January 24, 2012, LEGO announced that the theme was accepted. Soon, the first LEGO Minecraft set was released as 21102 Micro World[21]. Soon, the Pi edition was released. On April 5, 2013, Minecraft had reached 10 million sales (PC edition).
Xbox One (April 2013 - Present)
In April 2013, Majong announced that a new Minecraft edition will be released; Minecraft: Xbox One Edition.[22] The game will release for the sequel to the Xbox 360, the Xbox One, releasing in the 2013 Holiday.
Gameplay
Main article: Gameplay
The Player
Main article: The Player
The Player (known as Steve) is the contrallable character in Minecraft. The game can be generated by a random or a typed in seed. The Player has 10 hearts, which, if all run out, is killed, for these reasons;
Cactus
Fire
Lava
Sinking in water
Hostile mobs (Zombies, Creepers)
Suffocation
Lightning
The Void
In order to recuperate health, the food bar must be full. Eating Fried Chicken, Fried Pork, and other foods (except Raw Chicken and Rotten Flesh, chance of getting poisoned), you will fill up the bar, thus recuperating health. The food bar will slowly turn black; this happens when you do actions. The more actions, like sprinting, lower the food bar faster.
Blocks
Main article: Blocks
Blocks makes up the world of Minecraft, and was taken from Infinimer. In Minecraft there is many, many kinds of blocks including ores, grass, stone, lava, water and much more. Blocks can also be crafted, and smelted. The blocks, when destroyed give you that signifigant resource.
References