This page was previously a featured article.

This article was June 2013's featured article.

Coal is a item used to burn items in a furnace, harvested from Coal Ore. They can be also dropped by Wither
Coal
Coal

Vital statistics

Name
Coal
Uses
To make torches, fire charges, and more. They are also used as fuel for furnaces.
Hex
107
Dex
263
Bin
000100000111
First added
Indev 0.31
Skeletons. They can be renewed and can also be replaced with

Charcoal
. They used to make Torches, Fire Charge and a Block of Coal. Coal can be found everywhere, where there is stone. There can be 5-32 Coal Ore (in a vein) , and has a ⅔ chance for

dropping experience orbs.
Use in Crafting Recipes
Torch
Fire Charge
Block of Coal 
Use in smelting
Smelting Coal Ore is time-consuming, but is used to make Coal. The fuel is Coal/Charcoal and in the top goes the Ore. The result is Coal.
Video
Charcoal
Charcoal is a replacement resource if coal is not around. Wood can be harvested and then can be smelted
Charcoal

Vital statistics

Name
Charcoal
Uses
Charcoal can be used as a replacement to Coal.
Hex
263(1)
Dex
107(1)
Bin
000100000111(1)
First added
Beta 1.2
into charcoal. It can be used in superflat mode from NPC villages, when torches are in poor use. Charcoal can help you survive the first night. But, making charcoal is time-consuming.
Smelting Charcoal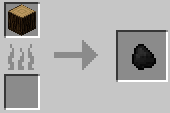 Video
History
Indev
0.31 
| Info | Date |
| --- | --- |
| Coal added. | January 29, 2010 |
Beta
1.2
| Info | Date |
| --- | --- |
| Charcoal added. | January 13, 2011 |
Official Release
1.4.2
12w36a
| Info | Date |
| --- | --- |
| Coal is dropped by Wither Skeletons. | September 6, 2012 |
1.6
| Version | Info | Date |
| --- | --- | --- |
| 13w18a | Now can craft a Block of Coal. | May 2, 2013 |
| 13w19a | Changed texture of Charcoal from to | May 10, 2013 |
Trivia
Charcoal was actually reccommended by a Twitter fan.
As stated by Notch, "Charcoal" is a class name of "Coal."
In Pocket Edition, 2 different types of torches can be made; a charcoal and a coal one.
Also in Pocket Edition, if you put a finger on Charcoal, the words will show "Coal."
Coal can be found in Mineshafts in Treasure Chests.
Item
Raw Materials

Blaze Rod •

Brick •

Bone •

Clay •

Coal •

Charcoal •

Diamond •

Emerald •

Ender Pearl •


Feather •

Flint •

Ghast Tear •
Glowstone Dust •

Gold Ingot •

Gold Nugget •

Gunpowder •

Leather •

Nether Quartz •

Nether Star